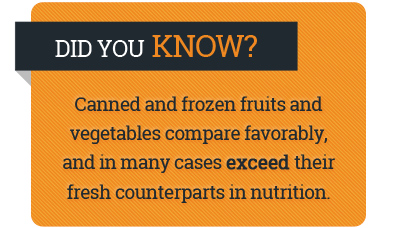 Canning processes are designed to lock in nutrients from produce at their peak ripeness so, unlike fresh produce, the foods lose very little nutritional value over time. Our thermal processes attempt to minimize nutrient loss during cooking or freezing, and many of our products can be steamed in the bag to minimize further nutrient loss.
All of our products are a nutritious and convenient alternative for families that have little time to prepare meals, are on a budget or just want more variety in their diet. Fresh produce offered in grocery stores is often picked long before reaching the shelves, and the nutritional value can suffer as a result. Once fresh produce is taken home, it continues to lose vitamins and other nutrients until used. Some vegetables such as sweet peas lose about 50% of their wet weight in the first 24-48 hours after picking, so canning or preserving just makes more sense.
Read more about the science on Business Insider
Consumption and use of vegetables as an ingredient in a casserole or mixed dish has been on the rise*. This means there are more opportunities to show the versatility of vegetables with core food groups such as beef, poultry and legumes. Ultimately, Seneca is committed to providing the most convenient and cost-effective solutions to bolster nutrition in family meals.